PRINCIPAL
PRINCIPAL'S LIST SINCE 1997
| | | | |
| --- | --- | --- | --- |
| S.No. | Name | From | To |
| 1 | Madam Dick | 1997 | 2000 |
| 2 | Mrs. Harbilash Pall | 2000 | 2014 |
| 3 | Mrs. Archana Gupta | 2014 | Till Date |
PRINCIPAL'S MESSAGE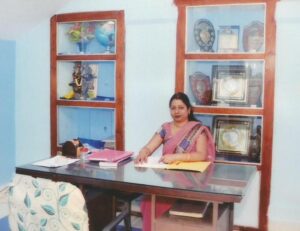 At Hitkarini Children Academy, it is an exhilarating experience to see each child bloom, each one with a different hue, a different fragrance, a different persona and yet so very significant and special in his/her own right.
The school has carved a niche for being progressive and distinctively unique in term of holistic development of children in its true sense. Our student have brought laurels in every field, be it academics, sports, music, dance, drawing and painting etc.
The environment of the school is conducive to child centric learning .The school has an inclusive, progressive approach and style of functioning. All the teachers are qualified, affectionate, enthusiastic and committed to the welfare of children.                                                     
For me, who has been associated with the well being of the school since its inception as a teacher and as an administrator, I see all the possibilities and all the potential in the school to be as leading school.
With the collective efforts of students and staff, our school's next year program has been prepared for your perusal and reference. This school diary bears information related to school calendar, Inter School Competitions and any more important information for your notice. You as guardian are expected to notify the information.
The first page of the students personal information is required to be filled in by the parents before submitting to the class teacher. Your constant cooperation is our strength for moving ahead.
Taking this opportunity, I value and appreciate the endless support extended by you in all our endeavors paving way for achievements and accolades, thus making it a more colorful canvas of Hitkarini Children Academy.
May you be a true partner for striving the excellence of our student for shaping the future of our Nation.
Mrs. Archana Gupta
M.Sc. (Chemistry), B.Ed
Principal
Hitkarini Children Academy
Jonesganj, Jabalpur